Reduce the harms at festivals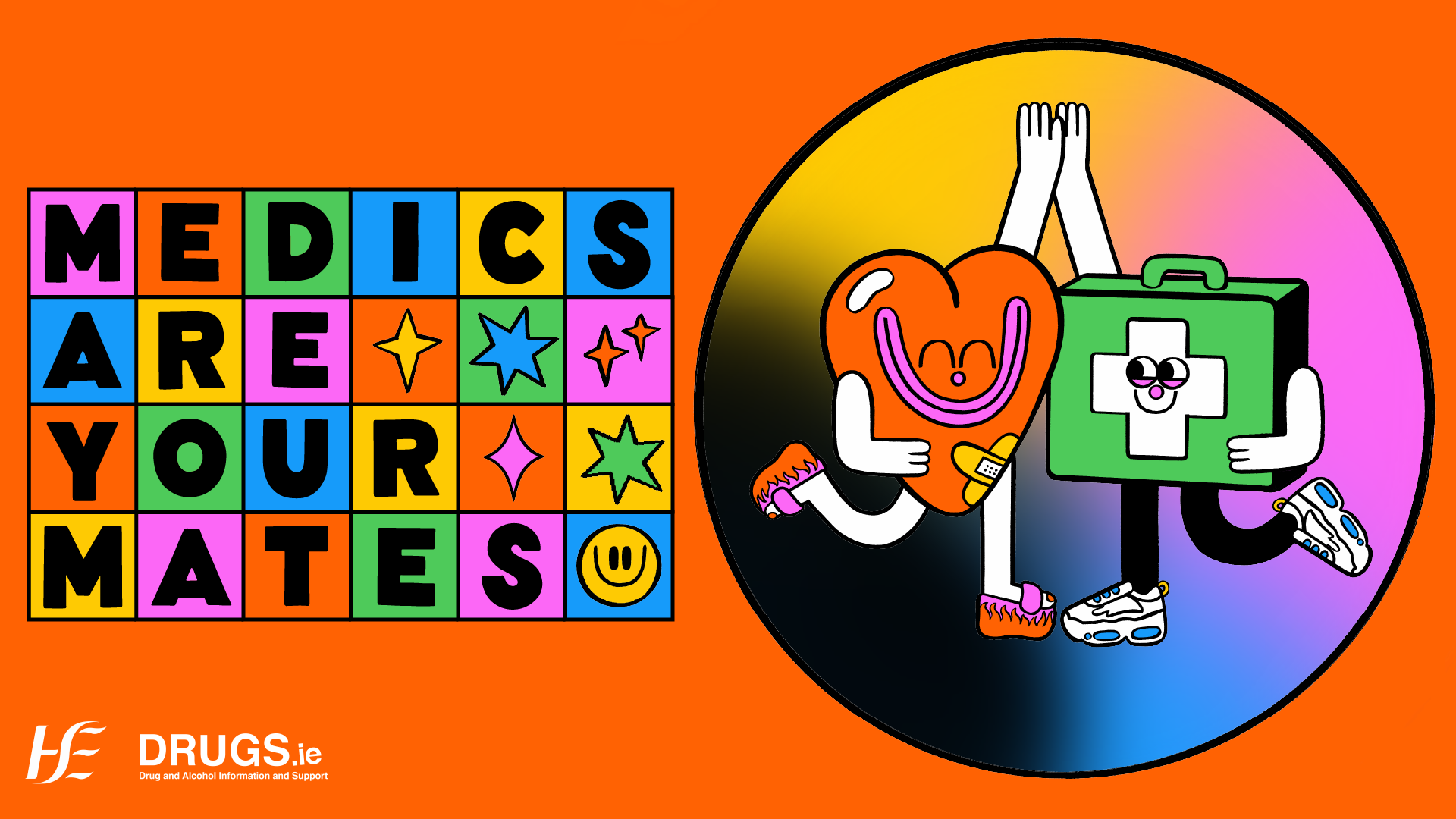 For many people festivals are the highlight of the summer. Here at Drugs.ie, we want your festival experience to be as safe as possible and one to remember for all the right reasons.
Not everyone will use substances at festivals and it is always safest not to use drugs at all. However, we know that drug use takes place across nightlife and festival settings and we want to raise awareness of the current risks and encourage people to reduce the harms.
Be in know about the current drug market
We are concerned about the current drug market including high strength MDMA (pills, powders/crystals) and cocaine. However, new substances have also been appearing in MDMA in the UK. .
At Electric Picnic 2022, the HSE issued concern about the strenght of MDMA products available on the market as well as the emergence of a new substance known as a 'synthetic cathinone'.See the results from the first drug monitoring pilot at Electric Picnic September 2022 here
As well as this, we have concerns for synthetic cannabinoids emerging in cannabis (vape, herbal products and edibles) in Ireland. See our update on synthetic cannabinoids here.
How you can reduce the harms at festivals:
Tell your friends if you decide to use drugs at the festival. Try to have one friend who doesn't use and be with people you trust.
Be in the know before you go: See our update on trends here. See our information on the signs of a drug emergency here.
Plan to take less. Your tolerance may have changed if you stopped using drugs for a while during COVID-19 restrictions
Start low and go slow, take a small test dose. Pace yourself by taking a small amount and leaving time between use can help you identify how you are reacting to the substance.
Leave the mixing to the DJ – avoid mixing drugs, including alcohol and prescription medication. This can increase your risk of becoming unwell or experiencing a drug emergency. MDMA could interact negatively with some medications such as antidepressants. See our information on mixing drugs here.
Keep cool and stay hydrated - Sip water but don't drink over a pint an hour as drinking too much water can be dangerous. Take breaks from dancing and give yourself time to cool down
Medics are your mates - don't be afraid to get help if you or a friend becomes unwell or feels suicidal after using drugs. Know the location of the medical tent at events and what you would do in case of an emergency. Be honest with medics about what was taken, they are there to help.
For help educate people at festivals this summer, we have developed new educational booklet and a series of posters with practical messages to help people reduce the harms.
Festival resources 2022
This years festival resources were designed by Jacky Sheridan.
Download our festival booklet here with harm reduction, information on drug trends and information on drug emergencies
Poster files (zip file download) available here
Social media imagery
Get more information
Festival outreach
We will be at a small number of events this summer to provide harm reduction education, come and say hi and get information if you see our teams of volunteers!
We will be at Indie Festival in Cork on the 29th and 30th of July and Electric Picnic on the 2nd, 3rd and 4th of September. Follow us on Twitter @drugsdot.ie for updates.
For further information about this work please contact nicki.killeen@hse.ie or drugs.ie@hse.ie