Lets Talk About Drugs: Media Awards 2011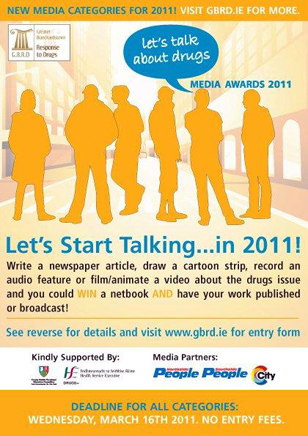 The details of the 2011 "Let's Talk About Drugs" Media Awards have been announced. The awards, which are in their fifth year, were created to encourage the journalists and reporters of tomorrow to start writing and talking about the drugs issue in Ireland today.
These awards are organised by the Greater Blanchardstown Response to Drugs (G.B.R.D), these awards are aimed at primary and secondary school students, college students and aspiring members of the media, to stimulate debate around the drugs issue in Irish communities.
Official Themes for 2011
Theme 1: Prescription Drugs – problem or solution?
Theme 2: Alcohol – is cost the only price?
Theme 3: Drug Rehabilitation – recovery is possible?

Prizes
As part of their prize, the winners' work will be published or broadcast and they'll also receive a netbook computer. In addition to the category winner prizes, the G.B.R.D will also be presenting the annual 'GBRD Endeavour Awards' to an individual and a school.


Watch the Media Awards Promo Video
Loading the player...
There are no entry fees and the four media categories are:
Newspaper Article: Entrants have to research and write an original newspaper article around an official theme (between 400 and 800 words in Microsoft Word or Google Docs)
Cartoon Strip: Entrants have to create an original cartoon strip around an official theme, using freehand drawing or computer aided design (between 4 and 12 panels in pdf, jpeg or hardcopy)
Audio Feature: Entrants have to research and record an original audio feature around an official theme (between 3 and 5 minutes in length as an MP3 file)
Video/Animated Feature: Entrants have to research and film/animate an original short video, with sound, around an official theme (between 1 and 5 minutes in length in QuickTime or AVI)

Important Dates
Launch: w/c January 10th 2011
Closing Date: 5pm on March 16th 2011 (day before St. Patrick's Day)
Judging: Late March 2011
Awards Ceremony & Announcement of Winners: April 11th 2011

Official Website: www.gbrd.ie

The Judging Panel will include representatives from the organisers, media partners and funding agencies.


Top Tips
Download an entry form from www.gbrd.ie and send it with your entry (the judges can't accept an entry, without a fully completed entry form!). The Judges won't accept any entries that contain commercial messages or that aren't original. If you're quoting a piece of research, don't forget to include the source with your notes. For the newspaper article category, have a look at last year's winners on www.gbrd.ie to get an idea of what the judges are looking for.


Posted by Andy on 01/20 at 10:35 AM in
None
• (2) Comments
Comments